"The Amazing Story of Ralph Gean"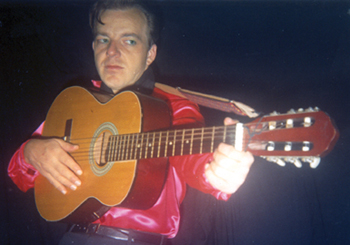 Few individuals alive have had as longstanding or committed a relationship to rock n' roll as Ralph F. Gean. Even fewer can claim to have led lives remotely as multi-faceted, colorful and downright weird as the man otherwise known as "The Star Trekkin' Rock n' Roll Cowboy." Ralph's been writing, performing and recording his own music pretty much non-stop since the mid 1950s, and began his career opening arena shows alongside the big names of the day; but 50 years later, rather than enjoying the fruits of decades of fame and success, Ralph instead remains in relative obscurity, largely unknown except to devoted fans of "outsider" music. He's endured more than a few years of living in hovels, sleeping in his old Ford van, and playing on street corners for food money; and yet despite receiving little recognition or reward for his musical labors, Ralph's never abandoned his lifelong dream of rock n' roll glory, even as he now enters his late 60s.
I first saw Ralph perform in Denver, Colorado in 2003 at an all-ages showspace/warehouse I was living in at the time called Monkey Mania. An unassuming man with sloping shoulders, a missing front tooth and long, stringy gray hair, he was clad in a pair of sweatpants, a tattered cowboy hat and what could possibly be the tackiest oversized tie-dyed shirt I've ever seen - none of which suggested "rock energy."
Ralph Gean in the early 2000s.
Ralph had been booked to play that night alongside several local punk and indie bands composed of teenagers young enough to be his grandchildren, and while his inclusion on the bill may have seemed an anomaly at first, as soon as he took the stage it became immediately apparent to all in attendance that not only did he fit right in, but was actually the highlight of the show.
As with many punk shows I've been to over the years, the other bands that performed that night blend together in my memory: too many guitars, too many amps turned up all the way, too many tattoos, too many piercings, too much hair dye, and way too much screaming - but not nearly enough content, sincerity or anything resembling genuine passion. Ralph, on the other hand, stuck out like a sore thumb, not only because of his age and attire, but also because musically he was everything the other acts weren't; he ambled up to the stage with just his timeworn acoustic guitar (which was missing a string), humbly stepped up to the microphone, thanked everyone for coming, and then proceeded to captivate the otherwise jaded and cynical audience with a series of genuinely weird, funny and just plain fun rock and country songs about murder, lust and the Old West, which he bellowed out in his signature full-throated baritone and frenetically strummed with more energy and unpretentious enthusiasm than all the scream-laden angst-rock bands that had preceded him put together.
How Ralph ended up playing one-man shows at punk warehouses in his early 60s, half a century after he began his career in rock n' roll, is a bit of a long story, filled with fleeting glory, abject despair, run-ins with the feds, shitty day-jobs and love triangles gone wrong, but then that's what rock n' roll is all about, after all ...
Ralph as an adolescent.

Ralph Gean was born in 1942 in Port Arthur, Texas to a musically inclined mother (he would eventually record several of her compositions) and a father who worked as both a jukebox salesman and Victrola repairman; thus young Ralph was exposed to music - and lots of it - at a very early age. He displayed such a love for singing that, in 1945 at the age of three, Ralph's mother took him into a studio to cut his first recordings: a cappella renditions of "Jesus Loves Me" and other religious traditionals (technically making Ralph's studio debut prior to that of his hero, Elvis Presley).

Enjoying a relatively normal childhood and adolescence, like many American teens of the 1950s era, Ralph was bitten by the rock n' roll bug, and during the summer of 1959 the teenaged Ralph worked at a carnival and saved up enough money to buy his first guitar.
Ralph with his first guitar.

He immediately set about mastering the instrument and began writing and performing his own songs while still a student at Thomas Jefferson Sr. High (where Janis Joplin happened to be a classmate). Ralph rashly dropped out of school at 17 to join the U.S. Air Force, but as he was interested mostly in rock n' roll, fancy clothes, fast cars and girls, he quickly realized he wasn't cut out for military service. He managed to find a loophole in Air Force rules through which he was able to slip, and set out to become a professional rock n' roller instead.

Ralph Gean's career in rock n' roll took off in the early 1960s. Having achieved a modicum of local notoriety for his performances of both originals and covers of contemporary rock standards (a regular practice in the early days of the genre), in 1962 he was invited to make his first proper studio recording, cutting an original track called "Here I Am" for Ray Doggett Productions. "Here I Am" was recorded with B.J. Thomas (later made famous for "Raindrops Keep Fallin' On My Head") and Thomas' band at the time, The Triumphs, as well as a vocal group called The Epics. Curiously, a B-side to the single was never recorded, and "Here I Am" never saw commercial release.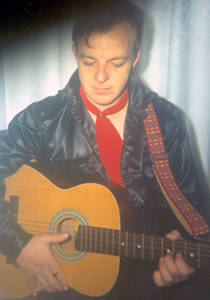 Ralph and his guitar, early 1960s.

Undeterred, Ralph went back into the studio that same year and recorded "Weeping Willow Tree" b/w "Experimental Love" which was released soon thereafter by Lori Records. For his second studio foray (but first actual single) Ralph was backed by Freddie Koenig & The Jades, and supplemented by a female vocal trio known as The Lively Sisters (with future country star Mickey Gilley on piano). "Weeping Willow Tree" quickly became a regional hit in the Houston, Texas area and Ralph's career as a rock n' roller was officially underway.

Due to circumstances beyond Ralph's control, the momentum created by the success of "Weeping Willow Tree" would be squandered; it took a full two years for Ralph's second single to be released. Gallant Records financed the recording of Ralph's second 45 and in 1964 released "One Night In San Antonio" b/w "Hey Dr. Casey," the latter being Ralph's novelty tribute to the TV series Ben Casey. This too was well received locally and Ralph's career was, by all accounts, headed nowhere but up. Throughout this period he was regularly opening big arena shows for national acts like Roy Orbison, Glenn Campbell, Roy Head and others, and soon enough his songs were being covered by his contemporaries (Sunny & The Sunliners did a rendition of "One Night In San Antonio" and Vance Charles & The Sonics recorded the Ralph-penned track "Closer To Me").
Ralph with his early 45s.
It seemed that young Ralph was surely poised for national rock n' roll success - and he very well may have almost had it, but for one thing: the so-called "British Invasion" spearheaded by The Beatles, and its attendant bottoming-out of national interest in rockabilly-inspired American rock n' roll. As Ralph would later recount, "By the time my second single finally came out, we were in the middle of Beatlemania. All I ever heard was Beatles, Beatles, Beatles."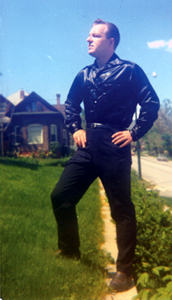 Ralph in the early 1960s.

Undaunted by the public's sudden, fickle shift in taste, Ralph put up $200 of his own money to go into the studio and record a third single, "Electricity" b/w "I'm Counting On You," but he couldn't find any record labels interested in releasing or distributing it, as his American brand of rock n' roll had fallen out of fashion while teenagers instead embraced the Fab Four, The Rolling Stones and other British imports.

His brush with success having dissipated much more quickly than it had taken to develop, Ralph Gean did what seemed the most reasonable thing to him at the time; he acquired his high school equivalency certificate and got married, tying the knot with a young lady by the name of Sadie Onetta Slaughter in 1967. Both lifelong Mormons, the young couple headed up to Idaho, where Ralph sought employment through The Church of Jesus Christ of Latter-Day Saints and eventually found a job as a crop processor and boxcar unloader. A year later Ralph enrolled in junior college at Rick's College in Rexburg (now a part of Brigham Young University), where he undertook the study of geology and paleontology, while working part time as a campus groundskeeper. Barely able to make ends meet, Ralph and Sadie lived in a small trailer where they conceived their first of what would eventually become four children: Evangelynn, Ralph III, Charles and Melissa (for whom Ralph would later compose an eponymous love song).
Ralph in Idaho.
Things were tight for the Geans in Idaho. Ralph earned barely enough to pay the rent, let alone feed his wife and new child. Nonetheless, amid his college studies, part time employment and duties as a new father, he managed to find his way into the role of a gangster in the college's theater production of "Kiss Me Kate," the cast of which included a handful of big name Broadway actors. The production saw 11 performances in both Idaho and Utah, receiving glowing print reviews locally and as far away as New York City, and turned Ralph into something of an on-campus celebrity. Despite this second minor stint in the limelight however, Ralph just couldn't keep it together as a college student, part-time groundskeeper and father, and was forced to drop out after just a year of studying at Rick's.
As the 1960s came to an end, the Geans moved back to Texas where Ralph undertook a series of menial jobs to support his family, including: service station attendant, janitor, office clerk, short-order cook, cafeteria manager trainee, laundry attendant, Procter & Gamble soap salesman, hospital orderly, factory worker, lumber mill worker, TV repairman's assistant, layer of seismography wire, patio foundation digger and a few others.
Having managed to get somewhat back on their feet in Texas, by the early 1970s Ralph eventually relocated the family yet again, this time to the global capitol of the Mormon faith; Salt Lake City, Utah. Not long after their arrival, Ralph and Sadie decided to break from the orthodox Mormon Church and became involved with a Mormon splinter sect led by Rulon Alred, whom the press had dubbed "The Mormon Manson." Unlike conventional Mormonism of the time, Alred's sect encouraged the historically traditional Mormon practice of polygamy, and thus was at odds with both the church and the law. As Ralph would later explain, "It was very controversial, and it confuses a lot of people… Bigamy is when a guy is married to several different gals who don't know about each other, but polygamy is where everybody knows about it and accepts it, and I believed in that idea at that time. I'd like to think that if I'd stuck with it, I'd have had a minimum of eight wives." Contrary to his aspirations, however, Ralph only managed to acquire two: his existent bride Sadie and a second, Ruth Evans. The three were officially married by Alred's sect in Murray, Utah, and maintained a polygamous relationship - children and all - for two years, from 1974 to 1976, during which time Ralph would eventually construct a roofless wooden shack in the Utah desert to house his growing brood.
The Gean's Utah desert shack.
"We started out in the same house, but things got worse and worse... So we moved out to the country, but that didn't last, either - one [wife] wanted to stay in the country, and the other one wanted to stay in town. So then we moved back to Salt Lake into the same apartment building. One was in an apartment upstairs, the other one was in an apartment downstairs, and I was spending three days with each of them. And that's really a crazy way to live."
Despite the commitments of not one, but two wives (and a job), Ralph continued to write songs, which he began to record on the recent invention of the hand-held cassette recorder. Unfortunately, notwithstanding the best of intentions, Ralph's polygamous marriage steadily deteriorated over the course of two years, and his first wife Sadie eventually left the arrangement, taking with her their four children. Ralph and his second wife Ruth remained in Salt Lake City and the two had their own child, Annette Spring, in 1977.
That same year Rulon Alred was assassinated by a rival sect headed by Ervil LeBaron, following which the Gean family was officially excommunicated from The Church of Jesus Christ of Latter Day Saints; something Ralph has sorely lamented ever since. Subsequent to their excommunication, Ralph and Ruth's relationship also began to erode and eventually collapsed much like the one before it, with Ruth leaving Ralph and taking their young daughter with her.
And so, as the decade of the 1970s came to an end - having been officially banished from his church, his five children and two ex-wives gone from his life, his college studies left unfinished, and his career as an almost rock n' roll star left more than a decade-and-a-half behind - a single and lonely Ralph Gean entered into a deep and prolonged depression, for which he would eventually be forced to seek treatment. In due course he found his way back to Texas yet again, essentially homeless and with no prospects of things getting much better any time soon.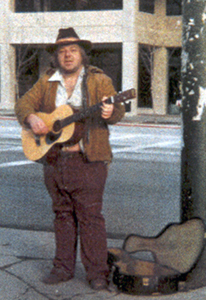 Ralph busking on the streets of Salt Lake City.

By 1980 the down-and-out Ralph had managed to make it back up to Salt Lake City a second time, and was living in the unsecured basement of a low-rent hotel that he dubbed "Skid Row Manor." He spent a year and a half living out of the hotel, supporting himself by playing guitar on the streets of Salt Lake, despite constant harassment from the local police. As he would later reminisce, "In a lot of ways, it was great… It tightened up my playing and really broadened my repertoire. And there were some really nice moments. One time, a guy liked me so much that he cashed his whole paycheck and gave it to me. Another guy gave me the jacket right off his back… Although some people tried to give me drugs. I'd have to tell them, 'I can't do that. Playing on the streets, I'm in enough trouble with the police as it is.'"

Desperate for cash, Ralph managed to get occasionally caught-up in a currency counterfeiting ring led by a friend of his who he'd met out in the desert during his polygamous shack-living days. Although he was only peripherally involved in the counterfeiting scheme in 1974 and again in 1979, in early 1981 this came to an abrupt halt when Secret Service agents appeared at Ralph's "Skid Row Manor" door and asked him to take a visit downtown with them. He narrowly escaped arrest by complying with the agents' requests for information about the extent of his involvement in years previous; and aside from having to sign a pledge never to become re-involved in the counterfeiting underworld, Ralph survived the ordeal unscathed and was essentially "scared straight" for the rest of his adult life.

During the year-and-a-half he survived as a busker, Ralph was fortunate enough to make the acquaintance of Dona Mae Donohoo, a married woman with a deep-seated love of music and an interest in helping him out. They recorded a number of songs together and eventually developed a lifelong relationship that nebulously shifted from amorous to platonic (and back again), but never led to marriage.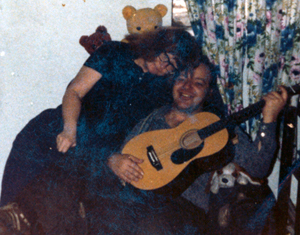 Dona Mae Donohoo and Ralph Gean.
Although Ralph had never abandoned music entirely during his years as a polygamist in the 1970s, it had taken a backseat to his duties as a husband and father; but at the onset of the 1980s, he again resolved to become a full-time rock n' roller. With the help of Donohoo, Ralph managed to get back on his feet, and by 1983 he was on stage once again.
Ralph Gean live with Big Bang & The Boulders
Salt Lake City, UT.

For the next three years Ralph fronted a number of rock, rockabilly and country acts, including: Big Bang & The Boulders, Rockin' Ralph Gean & Dreamsteam, Gean & Country Curfew, Kickin' Country, Heritage Review, Satsuma, Electricity, Banderos, John Doe & The Nobodys, and Dream Steam. Enjoying spirited local interest, Ralph and his assorted bands performed regularly at bars, small venues and fairs throughout Utah and Wyoming. All told, during this three-year period, Ralph reports that the bands he worked with collectively earned more than $30,000, and while enjoying nowhere near the attention he'd received in the late 1950s and early 1960s, for all intents and purposes he was nonetheless a professional full-time musician once again.

Following the dissolution of the of last of Ralph's Salt Lake-based groups in 1986, he was asked to write several murder-themed songs for an independent film titled The Nuthouse, and although the film was never made, the assignment yielded what would later become such crowd favorites as "Homicidal Me" and "Hard To Be A Killer." Aside from this one-off assignment however, things had pretty much dried up for Ralph in Salt Lake; and with no new prospects for starting up another band, in 1987 he and Donohoo moved from Salt Lake to Denver, Colorado, where the two would remain, albeit separately, for the following two decades.

Upon his arrival in Denver, Ralph soon landed an idyllic job (for him anyway) as a live-in caretaker for the millionaire heir to a mining fortune named John Spencer. Spencer, a recovering alcoholic, suffered from what Ralph described as "emotional problems," and consequently his inheritance was overseen as a trust, part of which provided for Ralph's living with him and in doing so, helping him function in the day-to-day world. "All I have to do is make sure he doesn't get into trouble or accidentally hurt himself… And really, it's the easiest thing I've ever done in my life, since John is able to do just about everything for himself. He works at Bayaud Industries, and he spends every dime he makes on the Lotto. He's won a few hundred dollars that way, and when he wins, it makes him really happy - I don't think he has any idea how much money he really has. And they pay me to take him on vacations, too. We recently toured the sites of famous Western gunfights… I'm telling you, this is the kind of job I've always dreamed about." Over the course of the next decade, the two became close friends, and Spencer even began playing music and recording with Ralph.

At the turn of a new decade, the 1990s, Ralph began a spat of one-man acoustic guitar performances inside his old Ford van (which had served as both home and recording studio for him at certain points).
Ralph and his old Ford van.

Still relatively new to town and fearful that the local police wouldn't approve of street corner minstrels such as himself, Ralph would park his van outside of Denver's Wax Trax Records, open its sliding door, and play from inside, figuring that if the cops showed up he could just close the door and drive off. Eventually he realized that unlike Salt Lake City, Denver's police force had better things to do than harass street musicians, and by 1994 Ralph was strumming his acoustic guitar and singing outside Wax Trax on a weekly basis. After scouring the oldies vinyl section for old rock n' roll 45s and chatting with the store's employees, Ralph would play outside until he'd made enough money to buy a steak at a nearby restaurant, after which he'd return home to watch the program Xena: Warrior Princess (the Aphrodite character from which would eventually inspire his song "Goddess Of Love").
Ralph playing outside Wax Trax, Denver, CO.


Around this time, Ralph made the acquaintance of Shannon Dickey, a particularly music savvy Wax Trax employee who took an active interest in Ralph's music and prompted him to begin performing at local venues. Acting as Ralph's manager, Dickey brought Ralph's music to the attention of a number of Denver's more eccentric music enthusiasts, including countercultural mainstay and "incredibly strange" music aficionado Boyd Rice, Apples In Stereo bassist Eric Allen, Tom Lundin and Gregory 'Ego' Daurer (whose "Kill For A Cigarette" Ralph would go on to cover in later years). This began a comeback of sorts for Ralph's theretofore washed-up career, and with Dickey as his manager, the next few years saw Ralph performing regularly throughout Denver, both as a solo act and with rockabilly backing bands composed of musicians young enough to be his kids. Due to the often off color subject matter of many of his songs, Ralph eventually developed such a devoted following amongst Denver's in-the-know hipster crowd, that by 1996 he was featured on the cover of the city's free weekly paper, Westword.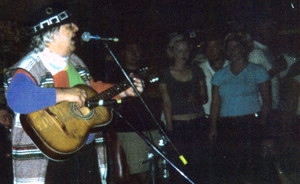 Ralph playing a sold-out, standing-room only show at The Lion's Lair.


A year later, in 1997, with the assistance of several of Ralph's enthusiastic fans/friends, Boyd Rice put out the first ever CD collection of Ralph's music on his independent Hierarchy label. The CD, released as the second in the "Boyd Rice Presents" series, was exasperatingly titled "A Star Unborn or What Would Have Been If What Is Hadn't Happened: the Amazing Story Of Ralph Gean." It contained a selection of cuts from the previous thirty years of Ralph's career, including some of his early 45s, a few of his 1980s full band recordings, and a number of solo tracks recorded on hand-held cassette decks.
Boyd Rice Presents: "A Star Unborn"

The disc sparked an immediate wave of interest in Ralph's music among a diverse fan-base composed of rockabilly and country enthusiasts, fans of Rice's work, and collectors of "incredibly strange" outsider music in general. San Francisco's punk rock 'zine, MAXIMUMROCKNROLL said of the disc, "Musically, it veers from psychotic shit-kicking to bent rock n' roll, parodisitc plodding heavy rock, scary Casio nuttiness worthy of latter-day 'beat of the Traps.'... [Gean] doesn't need any 'bonus' respect points for his age." Exotica/Etcetera said, "The man has presence, the man has a sound, and both come across with power." And Rock & Blues News was bold enough to declare, "[Gean's] problem has always been that he was ahead of his time. It took ten years for The Rev. Horton Heat and the psychobillies to catch up with Ralph Gean."

In the years that would follow in the second half of the 1990s, Ralph would go on to perform with the likes of Paul Burlison and Rocky Burnette, and with bands such as The Mutilators, The Volts and The Humpers, as well as open up for bands such as The Reverend Horton Heat, and John Sinclair of MC5 fame. He was brought into the studio to record a few songs with Jello Biafra of The Dead Kennedys and later with Eric Allen of The Apples In Stereo (neither of these sessions ever saw commercial release), and even flown out to San Francisco to play to more than 1,500 people at an "Incredibly Strange Wrestling" event.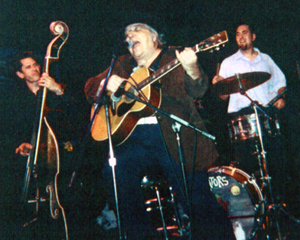 Ralph live with The Mutilators, San Francisco, CA.
This newfound interest of young people came in spite of several problems with the release of Ralph's "A Star Unborn" CD. Although it was put out on Rice's Hierarchy label, it was issued and distributed by World Serpent Distribution based out of London, England, which specialized almost exclusively in European post-industrial/goth and 'neo folk,' not American rock n' roll or rockabilly. While the disc saw excellent distribution in Europe and was well received there, the story in the U.S. was altogether different. "A Star Unborn" was not only difficult to find outside of hip independent record shops that carried the often willfully obscure releases on WSD, but was usually filed in the industrial/experimental section of such shops (due to its association with Boyd Rice) and marked-up as a U.K. import, making it often twice as expensive as domestic independent CDs. As if that weren't frustrating enough, Rice quit working with World Serpent not too long after the release of "A Star Unborn," following which the company eventually declared bankruptcy and went out of business; thus making the disc all but impossible to find and effectively out-of-print not long after its release. As a result, Ralph's short-lived debut CD was going up on eBay - and selling - for exorbitant amounts of money (as much as $65.00 in one instance), as a rarity and collectors item, but was all but entirely unavailable to the general public in the U.S., and had earned Ralph next to nothing in the way of royalties.
Ralph live on college radio.

Meanwhile, starting in 1996, Ralph began making a series of trips to Memphis, Tennessee's Sun Studio, where Elvis Presley had kicked-off the initial rock n' roll phenomenon. During each visit Ralph paid to record with the studio's in-house band, committing to tape a half dozen or so songs per session, including his own originals and classic rock n' roll era covers. Although he had no specific intention for releasing these recordings, he continued to make trips to Memphis whenever he'd saved up enough money and vacation time, mostly for the fun and nostalgia of recording at the legendary studio. "I've always wanted to do my own Sun session with my songs… I couldn't believe how good it all turned out [and] just to be standing where all those greats stood - it was wonderful."

Unfortunately, by the end of the 1990s, most of Denver's hipster crowd had lost interest in Ralph Gean. The mid-1990s era rejuvenation of "retro" culture and its correspondent revival of interest in the genres of swing, surf and rockabilly had petered out by the end of the decade, and Ralph was again generally ignored and forgotten.
Ralph live at The Old Curtis St. Bar, Denver, CO

When I met Ralph in 2003 the only gigs he could manage to get were at sparsely attended punk rock warehouses like the aforementioned Monkey Mania, and local Mexican restaurants, where he'd often play up to three sets without any amplification, and only be compensated with a meal and whatever tips he could make from patrons. This wouldn't have been so bad, except that Ralph's job as a caretaker for John Spencer ended not long after I made his acquaintance, and he soon found himself effectively homeless and without income of any sort whatsoever. Things suddenly got rough for Ralph Gean, yet again, and there were several weeks during which he had nowhere else to stay aside from on the futon outside my bedroom, in the basement of Monkey Mania. Eventually, however, Ralph managed to find permanent subsidized housing on the outskirts of Denver, and for the most part has been doing quite well these days. He still performs on a regular basis at local bars and restaurants, and has recently started getting decent gigs again, opening for local bands at real venues from time to time. He still writes new songs and is still as excited and enthusiastic as ever about his career in rock music.

What's unique about Ralph Gean (aside from the curious turns his life has taken over the years), is that despite decades of repeated setbacks, he's never lost touch with his original lifelong aspirations. Most of the kids in the bands that Ralph opens up for won't "make it" in the music biz; and once they realize that, will likely throw in the towel after a few years, moving on to "real" jobs and careers, and reminiscing from time to time about their salad days spent "living on the edge" and playing in a band. Not Ralph. He'll never stop - not until his body forces him to anyway - because he just loves rock n' roll too much; writing songs, recording, and most of all, performing for live audiences. The man gets a genuine kick out of entertaining people and puts on a great show, all by himself. If a crowd wants to hear murder songs, he'll play murder songs, if they want Elvis covers, they'll get Elvis covers - he doesn't particularly seem to care, as long as everyone's having a good time. And most often, with nothing but a microphone and an acoustic guitar, he manages to steal the show from whatever rock band he's opening for. Ralph's charming, sincere, funny, and he's got almost forty years of practice on anyone he might be playing with, so it really shouldn't come as too much of a shocker.
Ralph in 2006.

At the risk of overselling "The Star Trekkin' Rock N' Roll Cowboy," I'd argue that Ralph's music captures something that's increasingly rare in this day and age: a sincere love for writing and playing that has little to do with "success" or commercial viability. In an era when every Tom, Dick and Harry wants to be instantly catapulted to international stardom via American Idol without ever paying their dues (let alone writing a single song), Ralph Gean is a man who's paid his dues in spades… and then some. He's well past ever becoming a pop star at this point, but nonetheless continues to write and perform for whoever will listen, simply because he loves it. He was around when rock n' roll was born, and although he might've just missed the boat on American rock n' roll's first wave by a few short years, he hasn't lost sight of its original balls-out spirit of pure fun, irrespective of the varied, occasionally misguided directions it's taken in the decades since.

As a final note, at Ralph's behest I'm compelled to add that while many of his compositions focus on the darker side of life - namely murder - he's always stressed that they're just songs, and not to be taken too seriously. As he explained to one reporter in the late 1990s, "I'd never want any of my songs to inspire someone to hurt or kill anyone. I'd rather hang it up and not even be a singer if I knew that something like that caused the death of someone. But I know that a lot of younger people are exposed to a lot of violence in contemporary music. It's kind of weird to be liked for that kind of thing. But after all I've been through, it's just nice to be liked at all."
The Amazing Ralph Gean -
His Music His Story
DISCRIMINATE AUDIO, 2007.
In 2007 DISCRIMINATE AUDIO released a 40 year retrospective 2-disc set titled "The Amazing Ralph Gean - His Music, His Story." Disc one of the set contains the original "A Star Unborn" release from the "Boyd Rice Presents" series, as well as a handful of unreleased bonus tracks and live solo recordings. Disc two is a "best of" Ralph's Sun Studios recordings from 1996 - 2004. The accompanying CD booklet contains extensive liner notes (the above biographical text, with additional track-specific info), as well as numerous photos. The double-CD can be ordered online at www.RalphGean.com or www.DiscriminateAudio.com.
---
© Ralph Gean / DISCRIMINATE MEDIA